A letter from our Co-founder
ATP was started modestly in 1999. Our guiding principles of professional development and networking that cultivates deep relationships still hold true today for the advancement of our telecom and technology community. We have refined this over the years to include the recognition of excellence, the genesis of the Gala, and now with ATP Cares.
The first meeting took place at the California Pizza Kitchen at the Perimeter in the Fall of 1999. It exceeded our expectations with over 30 attendees. We had our first topical event, in the Spring of 2000, on the new big thing in telecom – you guessed it: IP VPN's! Not sure how many of us even recall what that is anymore. From there, we incorporated and put together our charter with Bob Speers and Brian Nagel as founding Board Members. We grew quickly with more events that appealed at the time and then we noticed that people kept coming back. It was the start of our ATP family.
Over the years, new Board members joined and stayed! This is the reason for our continued momentum. Membership grew, as well as our influence. Another defining moment was when we launched the ATP awards Gala 10 years ago with the leadership of Melanie Brandt. Ralph de la Vega of AT&T was our first award winner and continues to be a friend of ATP, along with all the executives who have won and been nominated since.
I think, at the time ATP was founded, Cheers was a big show, so welcome back to ATP, where "everybody knows your name." Thank you for being part of the ATP Family!
Kevin R Nicholas
ATP co-Founder
Executive Advisor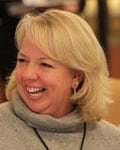 Jenifer Juarez
2009 - 2010

Melanie Brandt
2006 - 2007

Kevin Nicholas
2001 - 2005