September 13, 2016 at 6:00 pm - 8:30 pm
ATP's Pre-Gala Nominee Reception is an exclusive event to honor and celebrate the 2016 Gala nominees as well as prior Gala winners. Access to attend is limited to VIP Select Sponsors.
---
October 13, 2016 at 5:30 pm - 8:00 pm
The ATP Awards Gala is widely recognized as Atlanta's premier event, where the spirit is to showcase, promote and celebrate leadership and innovation coming out of Georgia. More than 600 of Georgia's most influential executives in communications and technology will gather to honor over 30 leaders for their impact in 2016. #ATPGALA
---

August 25, 2016 at 6:00 pm - 9:00 pm
Thanks to the generous support of ATP's members and sponsors, ATP is uniquely positioned to give back to the community through ATP Cares. ATP is proud to partner with PowerMyLearning and support Inspire 2016.
---
June 07, 2016 at 6:00 pm - 8:30 pm
Join us June 7th as we welcome an esteemed panel of CIO's and CMO's and discuss how these essential departments successfully collaborate on brand and sales projects, and how they learned to work together to pull off very impressive work.
---
June 01, 2016 at 5:30 pm - 7:30 pm
ATP is looking for Volunteers to help plan and coordinate the 2016 Awards Gala this October 13th. Our biggest event of the year, the Gala gathers more than 600 of Georgia's most influential executives in communications and technology to honor leaders for their impact in 2016 – join a committee and be a part of something great.
VOLUNTEER FOR THE GALA
---
May 12, 2016 at All Day
Join the Par-Tee at ATP's 12th Annual CIO Golf Tournament! This event helps fund scholarships for deserving students in our community each year. With over 30 teams competing, the Tournament offers a fun and unique setting to connect with your peers and other industry professionals. Don't miss 18 Reasons to not go into the office!
---
April 12, 2016 at 6:00 pm - 9:00 pm
A night to remember with great friends, drinks and catered food, this social event will maintain the same community connections you have grown to expect from ATP while introducing you to new industry leaders.
---
March 17, 2016 at All Day
The Technology Association of Georgia invites you to the Georgia Technology Summit on March 17th at the Cobb Galleria. This prestigious event brings together C-level technology stakeholders, entrepreneurs, technology professionals and academia to celebrate their success, recognize innovation, and to inspire.
---
March 09, 2016 at 6:00 pm - 8:30 pm
Join ATP and TAG for our Annual CIO Roundtable discussion on Wednesday, March 9th. There is no better way to build your real network than by attending this premiere event. Hear from top executives talk about hot projects they are working on to drive business value, the way they are using technology to solve business problems, their expectations of services and technology vendors, and much more!
---
February 09, 2016 at 6:00 pm
In today's economy, people are more willing to leave their jobs and explore other opportunities than they have been in recent years. Top talent is hard to come by, so it's crucial to engage and motivate them. Come hear how industry leaders are faced with these challenging questions and what they are doing about it.
---
January 19, 2016 at 6:00 pm
Traditional Telecom is being disrupted. The past 15 years have seen big innovation from the Telecom industry, along with big challenges and benefits. The emergence of the smart phone created a need to support all of those bandwidth hungry devices. Or how about the next big thing, infrastructure that's directly invisible to the public? Look forward to indirect benefits created like improvements in Facebook, Twitter, YouTube, and overall Ethernet bandwidth service to our devices and homes.
---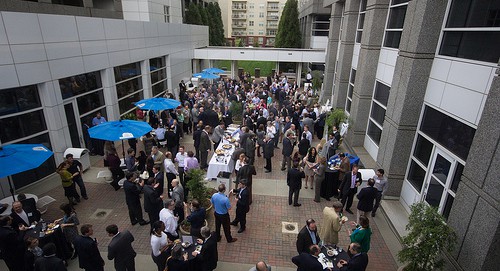 November 17, 2015 at 7:30 am - 9:00 am
If you are new to ATP or it's been awhile since you've attended, this is where you truly begin to build your Real Network!
---