The Convergence Innovation Competition (CIC) is an annual production of the Georgia Tech Research Network Operations Center. GT-RNOC supports participants' use of an extensive, live, end-to-end R&D test bed for prototype implementation. The CIC is a popular choice for initial engagement with GTRNOC, affording rich exposure to Georgia Tech's creative talent in leading-edge web, iTV, and telecom development.
When: Wednesday, April 21, 2010 – 5:00-7:00pm
Where: Technology Square Research Building (TSRB)
85 5th Street
Atlanta, GA 30308
A "Convergence" Competition Teams of world-class student innovators submit proposals to the CIC for new applications and services that combine visual and voice communication with real-time information and media over LAN/WAN wireless, wired, and cable networks.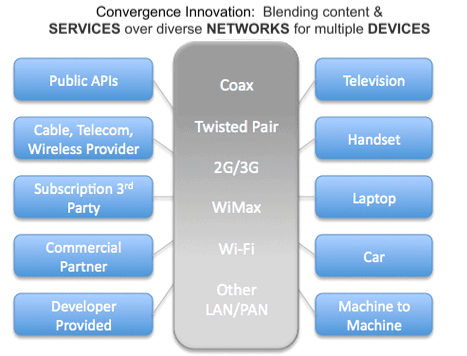 Proposals are evaluated for market and technical viability, novelty, creativity, and completeness.
Entrepreneurs Drive for their Prize
Successful proposals become entries in the competition for seed funding, professional business plan consultation, and matchmaking with Venture Capital firms, or intrapeneuring with the competition's industry sponsors.
Guided Innovation
CIC sponsors may define a domain, or "Category" of competition, choose judging criteria, and appoint Category judges. Special resources and objectives may be provided to teams in the category to foster invention around particular technical and/or marketing areas of interest.
Sponsorship choices
Both cash and in-kind contributions may be involved in sponsorship, depending on the partner's particular objectives. "Category" sponsorship may be a shared endeavor among two or three partners with common interests. "At Large" sponsorships allow participation in the test bed but not in Category definition.
Timeline for CIC 2010-2011
Jun 2010: Consensus draft definition of Categories
Aug 2010: Test bed updated. Funding secured and Technology integrated.
Sep 2010: Sr Graduate Research Assistants hired to support new technologies.
Nov 2010: Complete Fall Semester of "Mobile Applications and Services"
Jan 2011: CIC proposal development and presentation
Feb 2011: Industry Review of accepted proposals
Apr 2011: Judging and awards
Benefits of CIC Sponsorship
Define the Competition.
Category sponsors can target results of the competition by describing the subject domain as well as objectives, business and technical constraints, milestone reviews, prizes, judges, and judging criteria.
Sponsors may also provide feature products, tools, and relevant information for category entrants. GTRNOC assigns Graduate Research staff to support student development using these resources.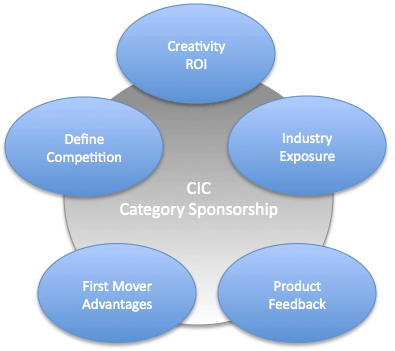 Creativity-ROI:
CIC Category sponsorship is an investment. Students consider the Category definition and associated resources, align these with their own ideas, choose categories, and form teams. Because multiple teams may develop solutions targeted to your interests, and because for each one you have an extraordinary window on a team of "musthire" talent, an investment in CIC Category sponsorship yields a high creativity-ROI!
Because GT-RNOC is an enabling organization, other research centers and development communities across Georgia Tech can also learn and build value around your products as a byproduct of your Category sponsorship. Same investment, more return!
Industry Exposure:
CIC kickoff (fall) and awards ceremonies (spring) are opportunities for joint press releases. Sponsors provide signage for the events and frequently share the podium. Final competition entries, including attribution for enabling products and technology employed, are featured at the awards event as well as in a variety
of industry discussions through the year.
For the 2010-2011 kickoff, representatives from GT-RNOC sponsors Verizon, AT&T, Alcatel-Lucent, and Motorola participated in the awards event. This year, invited industry review of CIC project proposals will be expanded from last year's invited review in which five global tier one service providers participated along with four top tier infrastructure providers.
Product Feedback:
Ever improving user experience is vital for successful products, services, and companies. GT developers and research staff are friendly experts and new users. Through them you can see your product from both network operator and user perspectives, and in context of an extended platform comprising diverse network and client elements from a variety of vendors. Their feedback can be very valuable.
First Mover Advantage:
Over the course of the competition, value is created in the category you sponsor. You get to see it first, guide its development, and participate in its next step toward commercialization.
Contact:
Ramsay Hall
Research Engineer, GT-RNOC Planning and Development
258 4th Street, Atlanta, GA 30302